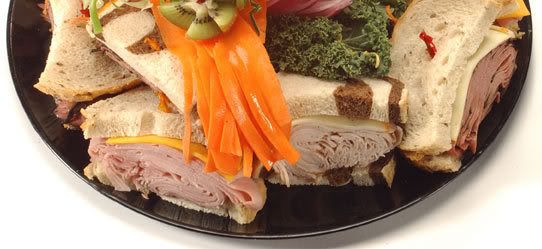 Hey, guess who I had lunch with today? …The lovely Christine, or flutter, as you may know her.
We happen to live no more than two or three stone's throws from each other, and we've been trying to make plans to get together over the last few weeks. My lack of an available babysitter has played into the delay, so yesterday we agreed that we should go ahead and get together, with my children in tow.
I made all sorts of elaborate plans for what to bring so Girl and Boy would entertain themselves and not antagonize each other throughout the meal. But as it turned out, my son was invited to a friend's house at the last minute (yay!), and just the Girl and I went to meet Christine.
(By the way, when I was getting ready at home, I realized that I have no cute spring tops or shoes. Or pants. Zip. None. Help. Oh, and it was 93 degrees here today.)
We met at Chompie's, which is a great New York style deli, restaurant and bakery in Scottsdale. When Christine walked in, I knew immediately that I would feel comfortable with her. She's warm and nice and smart and interesting, exactly as you might imagine, right down to the lovely red lipstick.
(Did you all know that she will be speaking at BlogHer in San Francisco? Could be that I'm the last to know this, but now I really really wish I were going.)
And now, the Girl is her biggest fan.
During lunch, Girl warmed to her and chattered away about Webkinz (her favorite topic these days). On our way out, Christine bought her a cupcake from the bakery, which was really just icing on the cupcake, at that point.
As Girl and I walked to our car, Girl looked up at me and said, "I like her."
"Well, I think she likes you, too."
Girl was quiet for a moment, then added, "I love her."
Endorsements don't get any sweeter than that.