The Whine
These last few days I could have posted nothing more than my grocery list and it wouldn't have made much difference, since my freakin', flippin' server keeps tanking on me every few hours (or more often). To those of you who were able to get onto my site (and to even leave a comment…god bless you all), thank you. It's been pretty hit or miss, and if it continues I might have to consider changing servers. A cautionary tale to those considering self-hosting.
To be fair, the problems didn't start until about a month ago, and the company had a good track record up until then. My fingers are crossed that they can work out the kinks. Soon. I'm going crazy, a little. But I'm trying to remain calm and look for the lighted exit signs.
And the Men in Trees
So instead of writing anything thoughtful or deep, I'm catching up on several missed episodes of Men In Trees. I have to say, Anne Heche in real life drives me a bit nuts, but I like her on this show. Plus, the men are seriously hot.
A few examples…
Scott Elrod as Cash
photo: Google Images
and James Tupper as Jack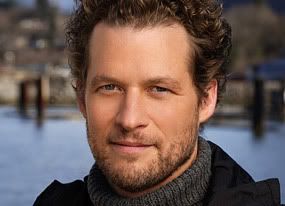 photo: Google Images
and Ty Olsson as Sam
photo: TV Guide
Told you.