What can I say about the Grand Canyon that someone else hasn't already said? Others before me have exhausted all the superlatives. But I can think ahead a hundred years, or a thousand (assuming that we don't destroy the planet before either of those dates), and imagine everyone in the future feeling just as wordless. Who knows, maybe there will be a few new words to use by then, words that can describe that kind of beauty without seeming trite or redundant or like an echo of all the words that have been spoken or written before.
I found myself wondering how long it might take to grow used to seeing that view every day. Do park rangers or gift shop employees look out their car windows as they make their way to work, hoping for a glimpse of a spectacular view, or do they become accustomed to it? Is that possible?
I won't bore you with a lot of photos, since mine are nothing compared to what real photographers might capture. Besides, I don't want you to feel like you're stuck in your neighbors' family room, looking at tray after tray of slides from their vacation, while the whir of the slide projector puts you to sleep.
This is the first photo I took: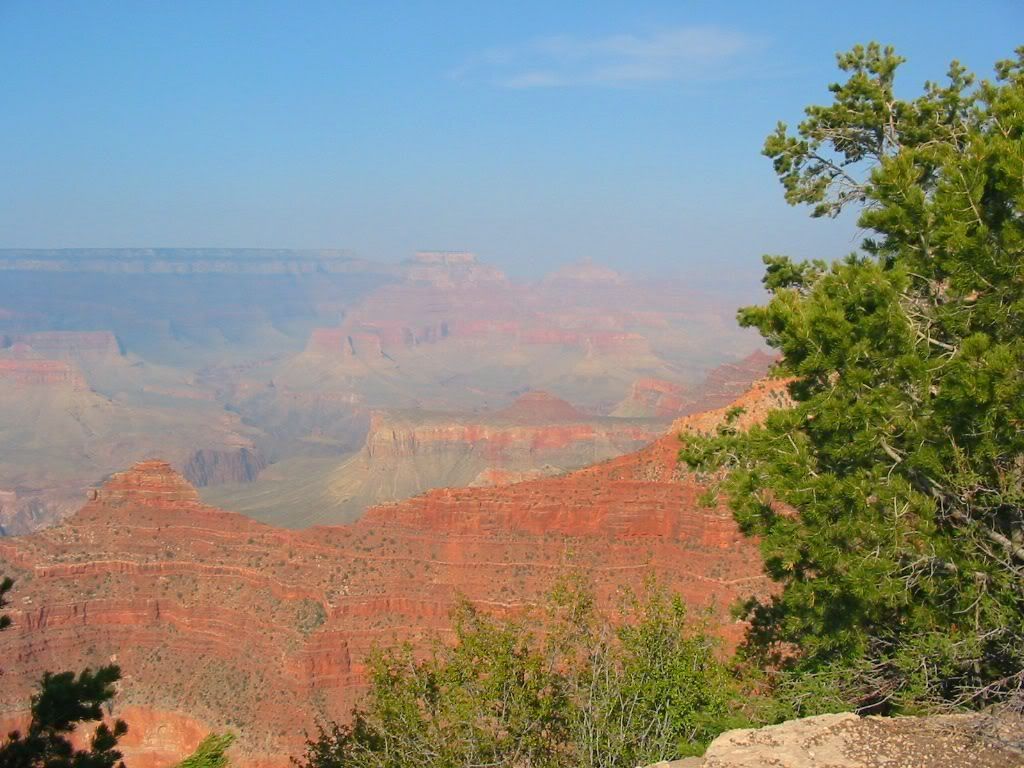 Several moments passed before I could even think of taking any pictures, it was just that overwhelming. All the photos I've ever seen of the Grand Canyon did not prepare me for the vastness of it.
I found this quote from John Muir, on how to describe the Grand Canyon:
The prudent keep silence. –from Steep Trails
Of course, Muir was quite articulate and poetic in his own descriptions of nature, including the Grand Canyon, but I still think I will follow that advice.
Boy and Girl were thoroughly in awe, and that was almost better than my own exhilaration. Boy said "Cool!" and "Awesome!" so many times that we couldn't have kept count. Girl was proud of her own bravery, holding tight to Grandma J's hand to keep her from being scared (Grandma J doesn't like heights).
While I have a rather serious respect for heights, also, I couldn't resist hiking down to a point that was more exposed (there was a trail leading to it).
Boy and Girl stayed up at the top with Grandma J and Papa, safe behind a stone wall.
Standing out on that rock wasn't scary for me (I think my fear of heights is specific to things like ladders and rooftops), but it must have looked a bit frightening to my kids.
I zoomed in from where I was and took this photo:
When I found out Boy said that, I felt a little bit bad for scaring him. But I was glad that I showed him that his old mom wasn't afraid to do something that looked intimidating, at least from where he stood.
Our last stop in the park was at Desert View, where we climbed to the top of the Watchtower: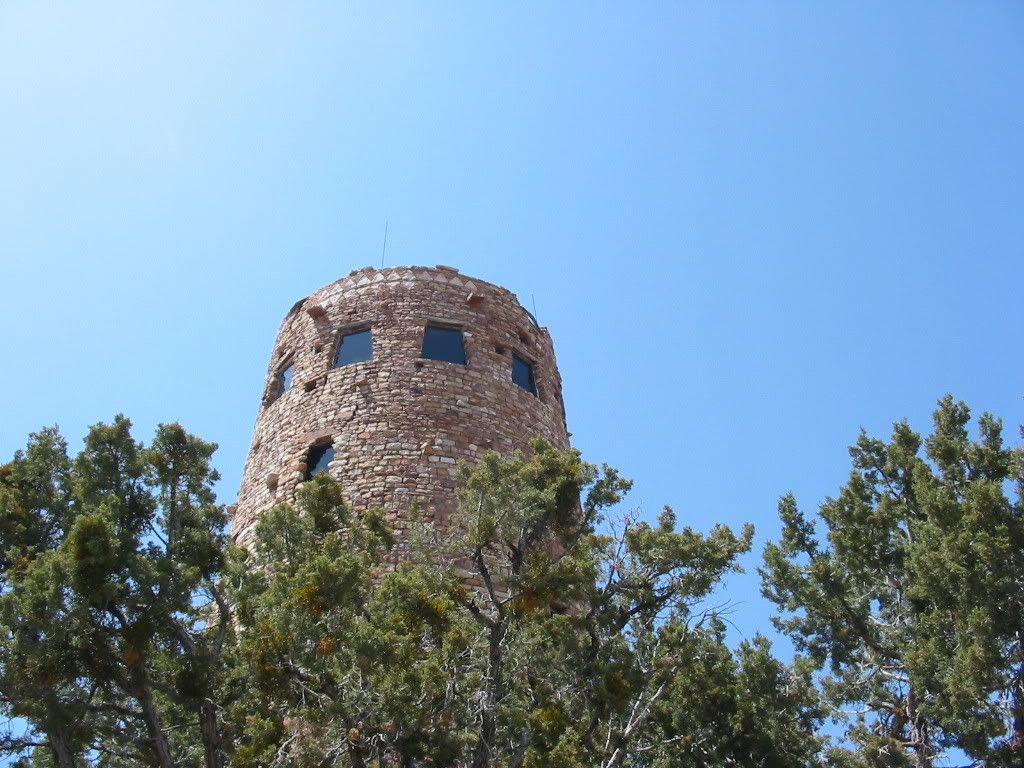 I wasn't in possession of the map, so I didn't realize that this was the easternmost stop in the park. So when we drove away, I also didn't realize that I wouldn't have another chance for a last look at the Grand Canyon.
I could have cried at that. That's just how I'm wired. I am not sure I can explain what that last long look would have done for me. All I could do as we drove on was to philosophize about which was better: to have that chance for a farewell look and a goodbye, or to be left unsatisfied, wanting even more to return. There's a good chance that either one would have left me feeling the way I did. The way I do.
Like I had lost something.
I hope what I lost is the part of me that sometimes holds me back from making the effort to create an adventure like the one we had this last weekend. It's not so hard, and this particular trip was almost as close as my back yard. I suppose it wasn't even an adventure, since we never actually left a paved road , but I'm counting it, still. How could I have ignored a place like that all this time and put off seeing something so beautiful?