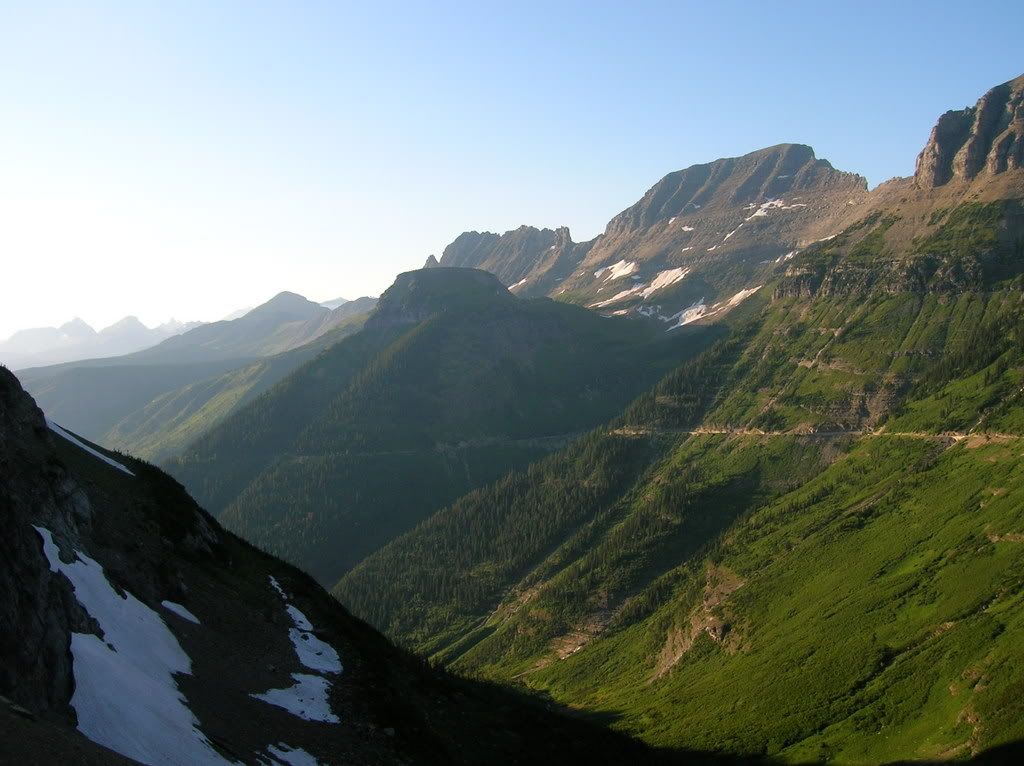 I've got wanderlust today. Specifically, I'm aching to go back to Montana. This morning, I found this blog, From the Front Porch, filled with Ann's gorgeous photos of the scenery from her I'm-envious-of-it place in Montana.
From time to time I troll the real estate listings in Montana around Flathead Lake, near Glacier National Park–Whitefish, Kalispell, Bigfork–just to indulge my dream of living there someday. A dream that makes no practical sense, since I'm not quite sure how we would make a living there. Still, I look and hope, and then I slip the dream back between the pages of reality, where it remains crisp and preserved for the next time I need a fix.
The fix I really need is to drive Going-to-the-Sun Road again. If you've driven it, you know. If you haven't, you should.
Later in the day, we went to the drive-through car wash and right in front of us was a truck with a red and white bumper sticker that said Flathead Lake, Montana. Which was exactly the area I had been lusting after all day long.
"Look," I pointed. "Look at that bumper sticker. Flathead Lake, Montana." I didn't really expect my kids to be listening.
"Hannah Montana bumper sticker?!! Where???" Girl squealed.
Sigh.
"No, honey, not Hannah Montana. Flathead Lake, Montana, which is a really beautiful place, and I want to take you there someday."
Her disappointment was palpable. And whiny.
"But where is it? I don't see it. Where?" she whined, "Where?"
I pointed and explained ("Left side of the tailgate, left side") as I pulled into the car wash. The truck drove out and stopped just outside of the wash tunnel. The man inside got out and walked around his truck, checking the quality of the wash, I suppose.
By then, the three of us were wondering aloud if there was a town called Hannah in Montana. Girl was very excited by the possibility.
Something didn't seem right about where I was situated in the geography of the car wash, and I was just about to figure it out when the man gave me a strange look and said something.
I gestured, "What?"
He said it again. "Back up."
I looked behind me.
Ohhhhhhh. My back tires were where my front tires should have been. The car wash was doing a great job of washing the back of my car. (For the record, I stopped when the lighted sign said STOP. Plus, we were having a super-important conversation about Hannah, Montana. And I stopped when it said STOP.)
There's your blonde moment for the day. And his.
So today, all roads lead to Montana. Except for the ones that lead to Hannah Montana.
But not to Hannah, Montana. Turns out, there's no such place.
Who else is glad about that?