Yesterday , I promised you a look at the list of players I would choose for my fantasy poker table. If you click on the image below, you'll get a better look at it (you'll want one). In fact, when you get to the image on Photobucket, you can click it once more for the largest possible image.
Then come back here, and I'll tell you my reasons for choosing each of them. Though, really, they hardly need explaining. (My only technical requirement was that they already know how to play poker.)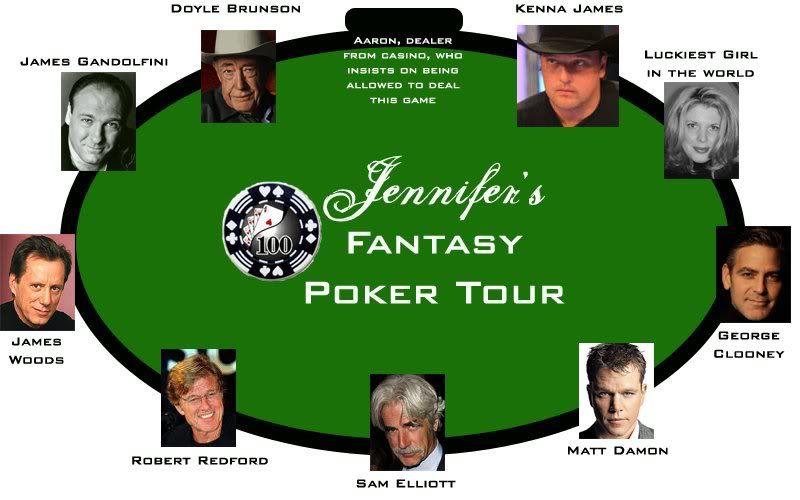 All photos borrowed from Google Images
The Lineup, by seat #
1. Kenna James , professional poker player. He may look all serious in this photo, but at the table he can be very funny. Also, he has the whole soft-lipped, twinkly-eye, cowboy thing going for him.
2. Lucky, lucky me.
3. Ah, George– How could I not include him? I was torn between sitting next to him (where he might totally on purpose accidentally brush up against my knee with his hand, or whisper a joke to me right against my ear, so quiet that only I could hear, and then we would laugh, all conspiratorially) and sitting across from him (so that I could stare at him). Tough call, but you can see the one I made.
4. Matt –He's got that whole Sexiest Man Alive thing going, just like his friend George. I wanted the two of them on one side, making me laugh and want to kiss them , and then Kenna James on the other side, also making me laugh.
5. Oh, Sam. Just damn .
6. Robert , the hands-down frontrunner in number of appearances in my dreams.
7. James Woods –he's smart and a solid poker player. He could hold his own in this group, too.
8. James Gandolfini –I have a bit of a thing for him as Tony Soprano. I know I'm not alone in this. Besides, do you want to be the one to tell him he can't join my little poker game? Didn't think so.
9. Doyle Brunson , the poker legend. This table wouldn't be complete without him. I've purposely put both him and Kenna James on my right, which is just smart poker strategy.
Many poker tournaments are played with 10 players at a table, and I've only got nine. There's a reason for that.
I've left room for Holly from June Cleaver Nirvana , who is welcome at any poker table of mine, anytime. Holly, there's room to pull up a chair, and you can sit anywhere you want.
As long as you're not between George and me.
One last thing…
I was able to locate ESPN's 4 seconds of me in their coverage of the 2005 World Series of Poker. I can't believe I'm posting it, for a couple of reasons…
1. I'm wearing a straw cowboy hat, that first day. Since then, I have not once worn that hat again to play poker. And I never wear sunglasses when I play anymore. What was I thinking? (Also, what's with my hair?)
2. The cameraman got a fine look at, um, the girls as I was leaning over to rake in a pile of chips. Well done, sir. The girls may be the only reason I made the broadcast. If you must watch it, the clip that I'm in starts at 9:18. (Edited: You don't need to watch the whole thing– just fast-forward to that point, unless you want to watch the entire 10 minutes of poker.) My hands show up at 9:33, and the rest of me follows. (File this under things I will regret posting.) But as my BFF Madge pointed out, this is a great way to put to rest any lingering doubts about The Man Photo.
You're allowed to mock. I'm cool with it.