Lovely, perfect Stupid house. I didn't want it anyway.
Hey, guy at the bank! Yeah, you. You know how you screwed up and didn't include our final offer on the house along with all the others when you and your little committee were making your decision? And then you told the other people that they had made the best offer and that–Congratulations!– the house was theirs? But then you realized you messed up by leaving out our offer (the highest offer, as you admitted), so you told us for days that you were reconsidering, even though it was really already too late? You're listening, right? That was so. not. cool.*
(Tears? What tears? There's no crying in real estate…)
So Boy and I spent an hour yesterday putting this together:
Then, the three of us spent a couple of hours playing this: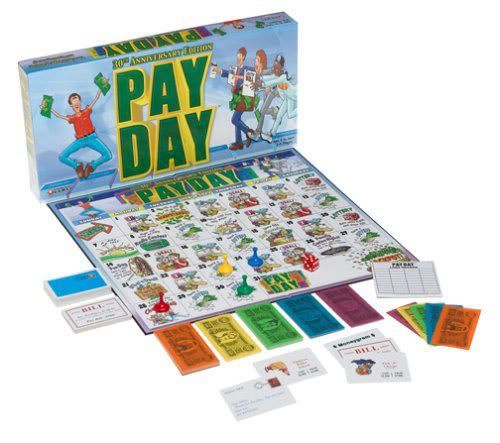 I was the banker, because I'm the mom and that's the best job (Clearly. See paragraph 2). I looovvve being the banker in Payday and Monopoly. Who doesn't, right? Something about all that colorful fake money tucked in neat little stacks under the edge of the game board like it's a cash drawer and god forbid anyone move the board and mess it all up…What? All right, I promise to let my children have a shot at the job. Eventually. My sister and I used to play Payday, and I'm so excited that both Boy and Girl thought it was fun. (We may play again today.)
The whoIe time, I tried not to think about that lovely, perfect stupid house.
_______________________________________________________________
*We found a house here in the area that was perfect for us. But it was such a good deal that even in this market there were five other offers. So now we're
mourning

bitching

whining

regrouping, and trying to remind ourselves that there are worse problems to have. Yeah, I'll let you know when we make any progress on that.