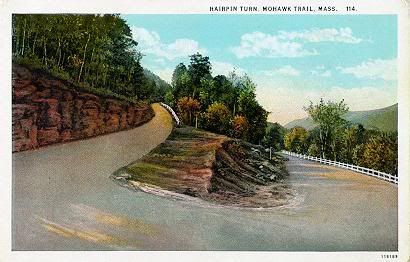 A hairpin turn, or a switchback. Both, names for a point in the road where you'd better pay attention, slow down, and ease into the turn. Foot on the brake, eyes on the road. Breathing through the moment when you're sure your heart has stopped. And then, when you come out of the curve, there's a whole new view and you're going in another direction entirely.
This time I took for myself in the last week felt something like that. It hasn't changed anything fundamental about my life, but I do feel like things look different now, and familiar in a way that I've missed.
I did most of the things I planned. A movie with a friend. (Lunch with a friend is on deck, still.) A drive. Reading. A few movies at home. Taking time to go outside and watch the moon rise.
Nothing else about my life changed – I still had to manage the usual responsibilities and the flurry of the first two weeks of school and the car that needs brakes and keeps stalling for some damn reason. The difference was that I added back into my life some things I've let go. I took myself outside the walls of my office, where I've been spending too much time. And those moments in each day that I stole back helped to change how I felt. I began to relax.
Admonitions like "being present in the moment" or "finding balance" or "simplifying your life" have never felt comfortable on my tongue, though I get the point. It's the language that I find unnecessary, especially now that those phrases are sprinkled so often through the pages of women's magazines.
Make things simple sounds better to me. Maybe it's all spin and soundbite, but if we can't make up our own words when we sing along, it's not nearly as much fun, is it?
Simple sounds better and better lately. The idea of spending a few days in a camper next to a lake in the mountains (someplace cooler than here, maybe) is more appealing than just about anything right now. Those of you who know me best, and know my dependence on a beauty routine, can stop laughing now. It's called natural wave, and I can adapt. Really, stop laughing.
Maybe it all looks more peaceful in my head than it might go down, but I imagine spending days just hanging out, cooking simple meals. Watching the kids try to fish. Swimming, drying off. Wind, warm as a kiss, on skin. Swimming again, maybe at night. Making a fire (if it's safe). And then, well-doused in bug spray, lying back on a blanket or a lounge chair, looking for shooting stars and watching the arc of the moon as it rises above the mountain and across the sky. Falling asleep with the sounds of the night close and scary. Earth. Wind. Fire. Water. The elements.
Eating. Laughing. Loving. Sleeping. The elements.
As for what I'm doing here, on this page, I'm going to let myself off the hook and ease up on the pressure to post almost every day (though that might still happen if I have something up my sleeve.). Not much else will change. You'll still hear about cowboys (because, c'mon) and the never-ending house hunt, and whatever else. Because it's all real, right? (I listened, and heard you all, and thank you.)
So I hope you'll hang around. There might be a bonfire, even. Who's in charge of gathering firewood? Did anyone bring wine? And I think I saw marshmallows around here somewhere…
A turn, a new view. Things look better already.