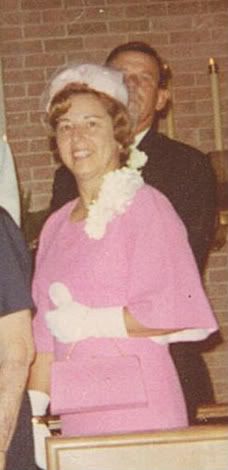 The woman in the photo to the right is my grandmother, and my grandfather is behind her. They are standing at the front of a church in August of 1966, at the wedding of their oldest son.
My father was 21. My mother was 19 and pregnant with my sister.
I don't presume to know how my grandmother felt about that, but you can see here that she put on a nice dress and smiled, at least for the camera. Maybe, after the wedding, she put away any misgivings about the marriage alongside her hat and purse in her closet.
My memories of her are simple, self-referential, and softened at the edges by time, like old photos. But in those memories, I can't think of a time when she didn't seem positive, even happy. More than that, she took care of everyone around her, making sure we were entertained and fed, or playing endless games of war with her grandchildren.
When I look at this photo of her, it's with a heart that knows only small bits of information about what her life was like, what it was like to be married to my grandfather and raising three boys. The things I have heard about those years could fit on small scraps of paper in the palm of my hand and not fill it up. I wish I had asked her, had thought to ask her, to tell me about her life when she was younger.
I do know that by the time my dad finished high school, the family had moved something like 26 times. My grandpa worked in the steel industry, and whenever he would lose one job (sometimes he quit, and sometimes he got transferred or fired) she would have to pack up the house and they would move again.
Now that I am about the same age as she was in that photo, I find myself wondering how did she do it? How did she hang in there? How did she manage to move time after time after time, arranging for new schools and new doctors and new houses? What was it like for her, never being able to settle into a home and stay for a while?
I've cropped the photo so that you can see a few details about the way she looked that day.
The dress, the hat, the handbag, the gloves. The shoes, too, I would guess, though I can't find a photo of them. All so well matched, ladylike.
After she died, I found that purse and hat among her things. For 36 years, she had held on to them. My grandpa gave them to me, and I have them still.
To have those two things, from that day, makes me feel like I have a bit of her courage, too. Maybe even some of the strength that let her put on a nice dress and a brave face and just get on with it. To take what life set at her doorstep, and to make the best of it.
I borrow her spirit sometimes. If only I could look good in that hat, too.