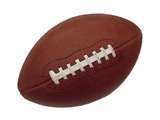 A very long time ago, my dad taught me how to throw a spiral football pass.
Not a bad thing for a person to know, and not a bad skill for a girl to have in her back pocket, something to pull out when she needs to up her cool chick factor by a few degrees.
I remember that afternoon, on the hill beside our house – an acre or so of grass that ended where the garden started at the bottom of the hill. He showed me how to spread my fingers across the laces and how to turn into the throw and how to rotate the ball. Before long, I got the hang of it. I wasn't great at it, but I could do it.
I don't remember if he announced that's what he would teach me that day, or why we were out there tossing a football. It wasn't something we usually did, and maybe that's why it stands out. It's a good memory, though. In a tangle of weeds, a wildflower.
Last week, I threw the mother of all spirals to my dad.
I told him about my blog.
He called to talk about some things – all of them, added together, amounting to the distance he feels that I've been keeping from him and the things I've been keeping from him. He wasn't wrong, at least not about that. In the last year – specifically, since I began to write about the things that happened in our family – I've had a very hard time behaving as though the wrongness of it all, of his part in what happened, hasn't knocked me backward into other years, into rooms we all left behind long ago. Off balance, I've felt like I needed to retreat, or else risk a conversation that I'm not sure want to have with him if it's not going to make any real difference in his understanding of things.
I knew I'd have to tell him sooner or later about my blog, though. My mother found this place a few months ago, and some of my dad's old friends found it, too. But if he was going to find out, I wanted to be the one to tell him. The phone call last week felt like a door had creaked open and was waiting for me to tell him to walk through it. And I did, reluctantly.
The idea of any of my parents reading here is uncomfortable for me. There's a lot that I'd rather keep separate, like provisions stashed inside a fort and me in charge of who will share them. Yet when I began to use my full name, I also knew it was inevitable that they would know eventually. My decision to fly my own flag came from feeling that until I attached my name to the things I was telling, I hadn't really done everything I set out to do, which was to tell the truth and not to be afraid of the fallout.
We are all different when it comes to our own stories. It's not always safe to use real names, and doesn't always serve a purpose. My decision was very particular and individual to my own circumstances. I was ready for the world to know, and it was a decision I made with my sister's blessing. After all, some of them are her stories, too.
Still, it's not without consequences (everyone wave to my mother).
I sent my dad the link to this blog, along with links to particular posts within the archives, and then I waited. In the last few days, he's spent a few hours reading (or so Sitemeter tells me).
I thought he might call, especially after reading some of the essays, but he hasn't. Of course, there were a few posts that didn't cast him in the best light, so I understand if there are some hurt feelings. Still, I don't regret anything I've written. I intend to keep writing about my family when I need to, without editing myself any more than I have. It's the attitude I embraced after my mother found this place, and it's the one I hope to pull off from here forward.
Maybe, at some point, my father and I will have a conversation about all of this. I doubt it will be as easy as it was to learn how to throw a football.
Until then, my throw hangs in the space between us, spinning.