You know you're going to have a good time with a road when you see a sign like this, right off:
Curves
Mountain Grades
Next 37 Miles
Ohhh, yeah.
I mean, if a road wants you to go all the way, it can't just lie there, all flat and emotionless, with no soul, no moves. Right? It's got to give you something back.
So let's call that road sign our first kiss.
I set out this morning on my drive with a vague endpoint in mind. This wasn't my first time on this road (the Old Apache Trail, or Hwy 88) but I wanted to go farther this time than I did the last. I mean, it was our second date, and all. My first time out, I turned around at Tortilla Flat, a tiny
(pop. 6) town just past Canyon Lake. From everything I'd read, I thought that the paved part of the road would end right after Tortilla Flat, so I didn't try to go beyond, thinking I would come back with the Jeep and finish the route with 4-wheel drive. (When the pavement ends, it's a graded road, but I'd still like to take the Jeep.)
But today (still Jeep-less, since the transmission needs some attention)  I wanted more. After Tortilla Flat, I bumped over the uneven pavement where flash floods  wash over the road. Then the pavement  smoothed out and pulled me forward through scenery that made good on every promise I'd heard about its beauty.
It went on for miles, a sweet tease of curves and hairpin turns and rising elevation. Mountains and mountains and mountains. Vast spaces spread out from a thin twist of road.
The kind of road that lets you know right off that guard rails are for sissies.
I saw a lot of these…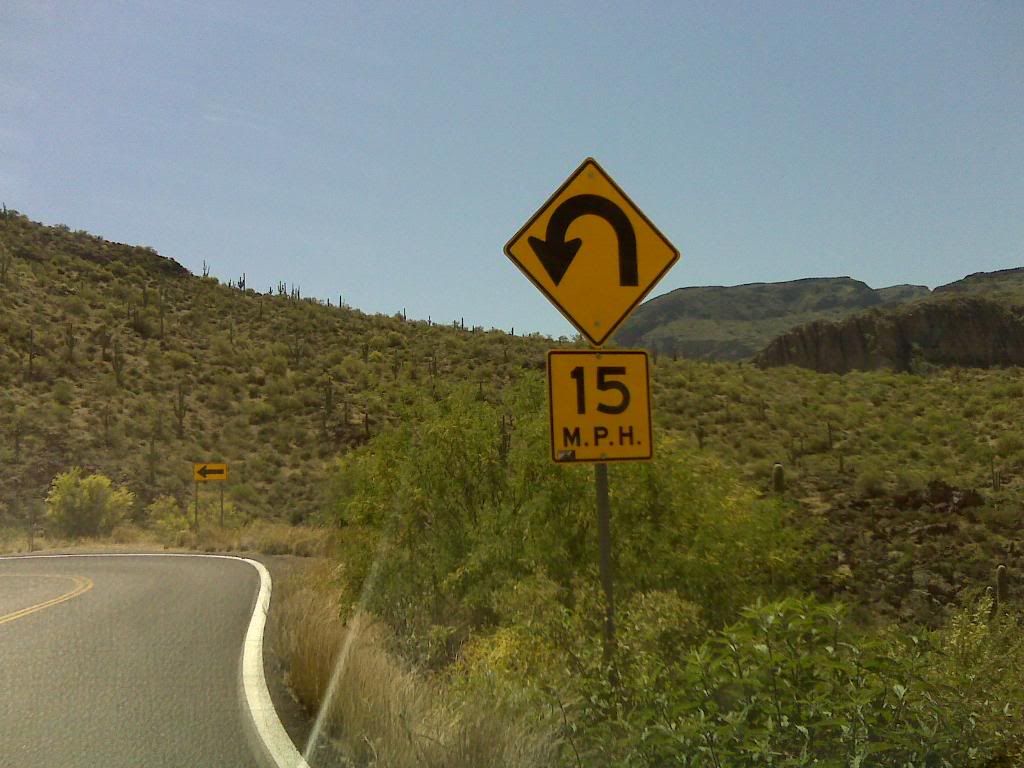 And I took this photo just because I could frame one arrow sign behind the other.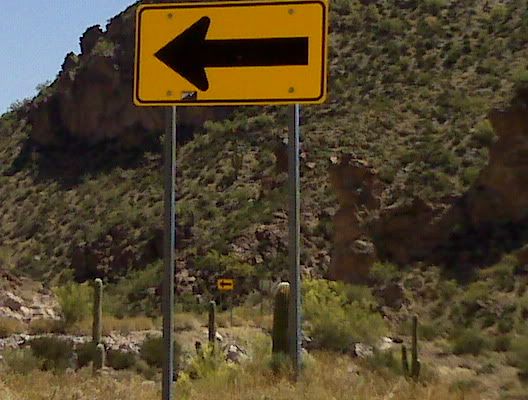 There was more traffic than I expected on a Wednesday morning, but even so I could look ahead and behind most of the time  and not see another car (I love that, on any road). When I pulled off to take photos, all I could hear was the buzz and hum of bees (it's the end of wildflower season here, but the flowering trees were full of bees), and the random calls of birds I couldn't name. Turkey vultures and hawks dragged their shadows over the ground like brooms.
But for birds and bees, it was quiet. Quiet that I needed. I can't imagine needing much else when you're looking at this.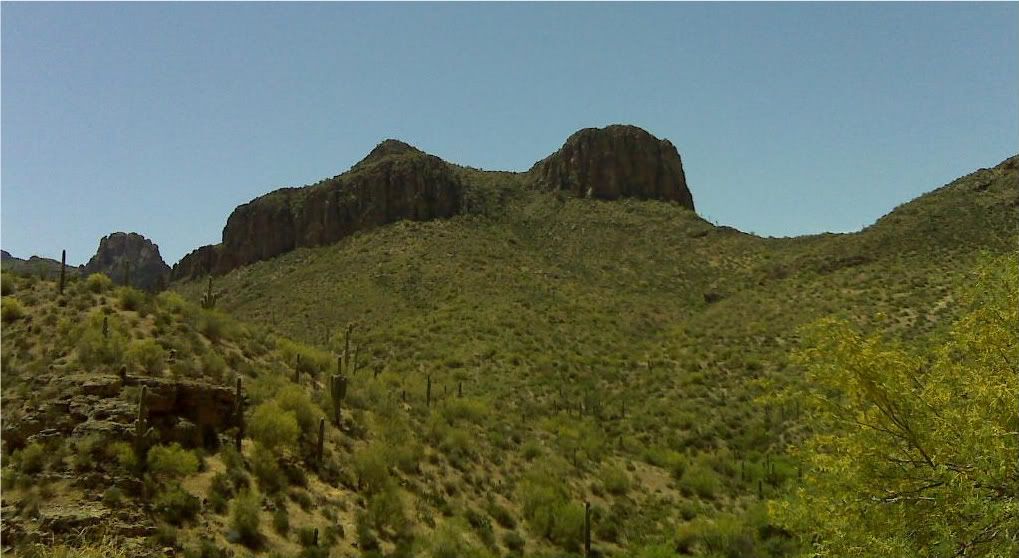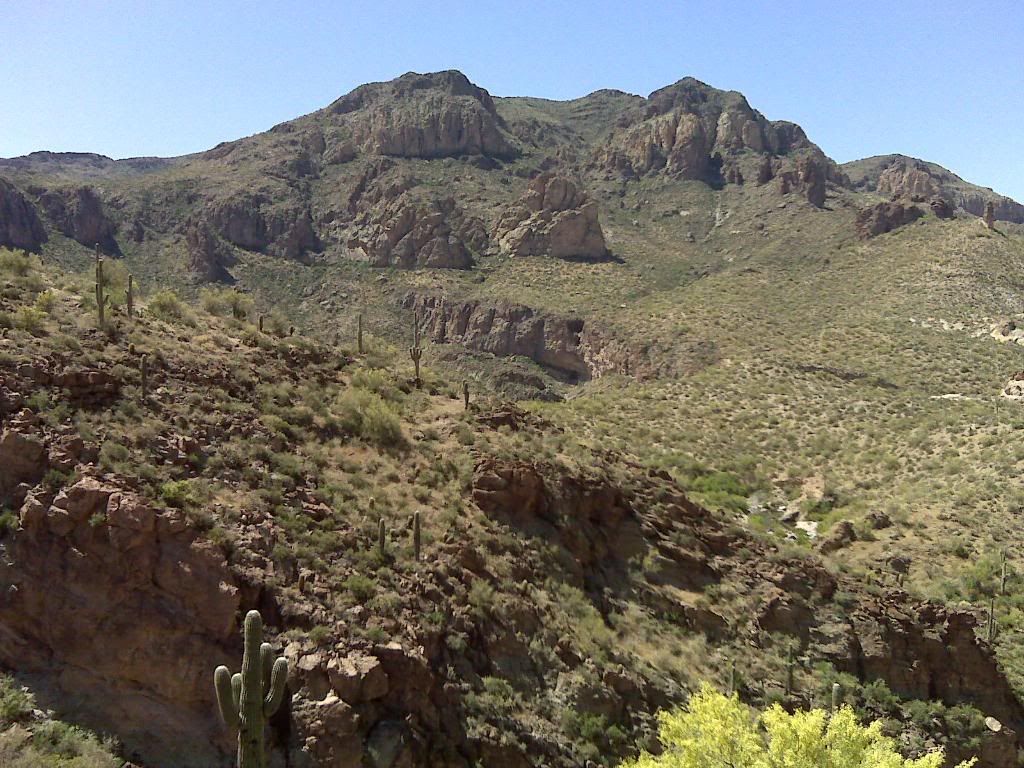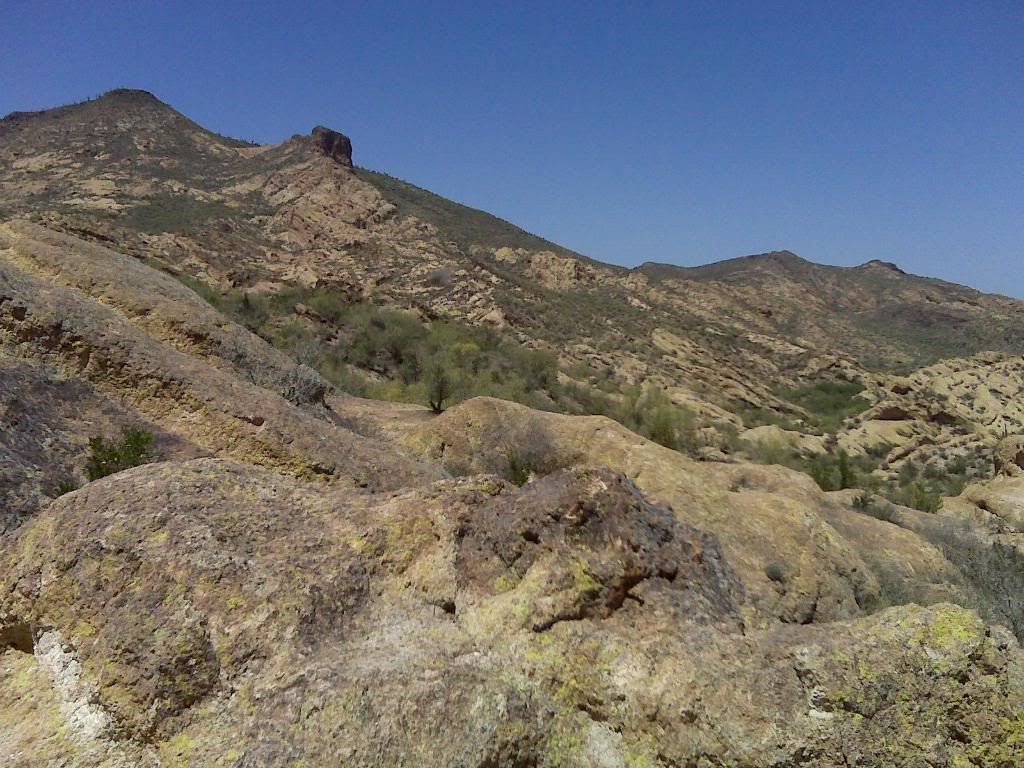 I'm pretty sure this road is a keeper. Good looking (allow the understatement), quiet, entertaining, and comfortable with my need for solitude. And made my heart race, like crazy. I can't think of a downside.
Here's where I turned around…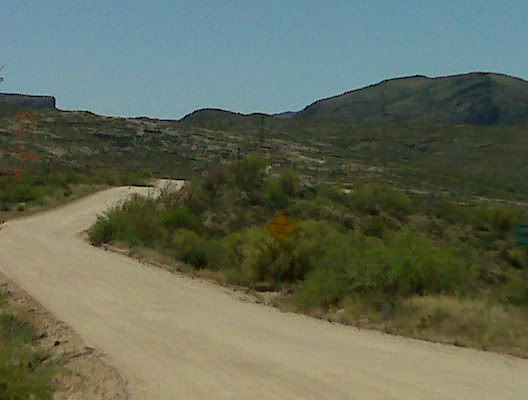 and where we'll pick up on our next date. Me, the Jeep, that road. And next time? I'm going all the way.
I'd like to thank my Blackberry for filling in for the camera that's gone missing. The photo quality wasn't always great, but the Blackberry held its own.
If you'd like to see more photos, here's the link to my Flickr set: Apache Trail
________________
I want you all to know how much I appreciated your kind and supportive comments on my last post. My thanks and gratitude – they come from the heart.