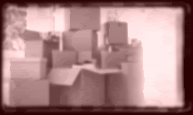 They pile into the car, arms full of backpacks and folders and reports cards. The word goodbye fresh on their lips.
As I navigate the school parking lot, I adjust my rearview mirror so that it fills with their two faces. Today would be a tough day, I knew that much. The last day of school, their last day at this school.
Elle* broke first. "I'm going to miss her," she cries out. Tears.
"Do you mean G?" Her best friend at school.
"No, Miss P. I'm going to miss her!" She's crying now, full-on.
And then Hunter* adds his voice. "Today was really hard for me, too." His eyes shine bright and so blue when they fill with tears, only he's trying to hold them in, while she lets hers fall at will.
"I know, guys. It's a hard day and I'm so sorry." I reach back with one hand and they both grab hold.
After a moment, Elle reaches up and touches her head. "See the tiara I got today in the class store?"  Her face brightens. She'll take her loss in doses, it seems, spreading it out over time. She tells me how she got it for a bargain, using classroom bucks they earn for good behavior. Scrubs away her tears somewhere in the middle of the telling.
They fill in details about the day. How she got a few addresses and phone numbers so she can stay in touch. That his class had pizza for lunch.
How she hugged Miss P goodbye, and hugged her friend R** twice.
This friend, the older sister of the little girl who was found wandering the neighborhood alone a couple of months ago.
This friend, who told Elle just a couple of days ago that if she came over one more time to see if R can play, then Elle couldn't be her friend any more. Which was what her parents told her she had to say to Elle.*** (Her parents choose her friends for her, Elle added.)
This friend, whose family is also moving away this summer, to a state far from here.
When I learned that, all I could think is that the watchful eyes that have been looking out for this girl and her sisters will lose sight of them, as surely as the moving truck will disappear from sight.
Is this what happens, then? Is this the last chapter of the story that I'll know? Elle plans to write to R, as long as we have an address, but after that, then what?
Maybe life gets better for that family, in this new place. Maybe stresses begin to slide away, things that make it harder to parent well and with patience. Or maybe what is, what has come before, just is and will be.
That thought makes my soul ache. Because that's not good enough.
In two houses not so far from each other, two families prepare to move, packing away all of these things that fill the spaces between the walls of a home. Things that are steeped in the actions and words between the walls they use to keep things and people out or in, or to protect the people within (sometimes the wrong people).
And they will pack up the things that mean something and a lot that doesn't, but it's what they have even if they can't remember how they got it. And those things will go on to the next place, too, because not everyone can tell what to keep or throw away. What's wrong or right. What's good for a child or isn't.
Wedged in between what's practical and useful – sofas, beds, pots and pans and dishes –  they'll stuff all that's wrong and sad and broken.
And in one house or another, and probably both, each person (old and young) will wrap up the best things, too. All that's fragile and good (fragile because it's good) inside countless layers of bubble wrap and tissue and hope.
For all of us, and those girls the most, I pray safe journey.
______________________________
*I decided, at last, to give names to The Girl and The Boy.
**Initial changed.
***I've been making allowances for parental discretion about convenient times to play or other commitments, but after ten or so invitations to play, it's hard to think there isn't some other reason why it hasn't been allowed.