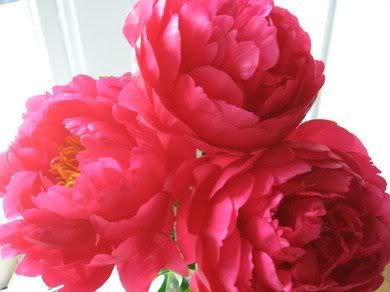 Peonies. Because this place could use something bright. Something unabashed and splashy and bold.
Something pretty and soft, when all I see out the window is desert, brown. And the greedy clouds that hold onto their rain even when they crowd the sky each afternoon, as they often do throughout monsoon season (may they let loose the rain, soon).
Because I want to plant peonies when we're settled, so that in a year or two or three, I can shake the ants off an armload of their blooms and bring them inside for the dining room table. Or so that Elle can pile her small arms high with them and make little arrangements to spread throughout the house, as I used to do with violets when I was her age. As we may both do, next year.
Because so much is contained within a blossom that hasn't quite opened. (A whole world, it seems, in such a small thing.) All that hope, all that promise. Potential.
What could be. What will be.
What is already, even if we can't see it, or know it, yet.