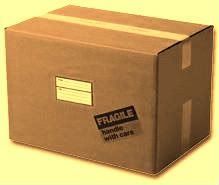 Earlier today, you would have found me cross-legged on Elle's bedroom floor, folding the top flaps of a box together with one hand, holding packing tape in the other. Sealing away for a few weeks some of the odds and ends that string together the life of an eight year old girl.
As I ran the tape across the top of the box, I noticed familiar writing, the boxy all-caps print that belongs to my mother. Letters marched in formation, if a little smudged now, across the box. The box corners a bit battered, edges and middle seam thick with layers of wide tape. The top of it marked with our old Indiana address, at least five years and 1900 miles from here.
Farther, it seems, and longer ago, back to a day and place when she would have mailed something to any of us.
What I packed in that box was nothing of consequence, nothing poetic or symbolic, just the stuff of a life. I don't remember what she sent to us in that box, just that since then, it's been unsealed and sealed, opened and closed up again. Repeat.
A metaphor for our relationship, if ever there was one.
What I know – all I know – is that since we moved here, I've moved on from where I was when that box showed up at our door in Indiana, and from where I was, even, when I unpacked it here and folded the box flat again.
Things changed, even more than they had already. Hard words flew across miles like arrows, found their mark. Others never left the quiet rooms where one or the other of us thought them, then thought better. In the end, we have the relationship that amounts to all we were ever going to have, with apologies to hope and good intentions. Disillusionment buys the drinks around here.
Disillusionment and the ghosts that deliver it, sometimes in boxes.
Yes, things can come back to haunt us. People, relationships, objects. But maybe they're only scary if we believe in their power to harm us. Once that is gone, we're free to turn away and carry on, startled maybe, but not shaken anymore.
So if I sealed something into that box today (besides the small treasures of age eight) it's that. The past is just the past again. What's gone is still gone.
And a box is just a box.