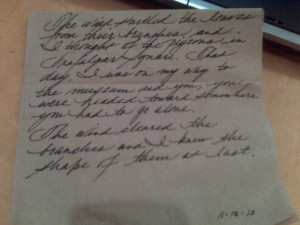 I love the idea of handwritten posts, mostly for the purity of pen to paper and no backspace key. (If you go to flickr and do a search, there are lots of them.)
These are just some lines I scribbled on a napkin at Panera this morning. There's nothing to them, really, just a seed of something that blew past when I picked up my son from school yesterday and noticed a tree in front of his school. They're a snapshot, if anything.
Because I scribbled, I'll type it out for you here.
The wind startled the leaves from their branches and I thought of the pigeons in Trafalgar Square. That day, I was on my way to the museum and you, you were headed toward somewhere you had to go alone.
The wind cleared the branches and I knew the shape of them at last.
(It's autumn. It's November. I get this way. You?)