This time of year, our sky here in Arizona can look like this: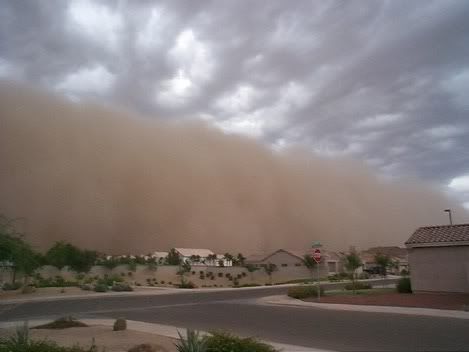 It's monsoon season, and that's a dust storm (also called a haboob–say it out loud, you know you want to). Until you see one, it's impossible to imagine what a wall of dust hundreds of feet high looks like. Spectacular, and dangerous. We drove through one once, on the way back from Tucson, and the limited visibility rivaled any blizzard in which I've ever found myself. You cannot see ahead of you. Cars pull to the side, and their drivers hope the other drivers behind them can see well enough to spot their taillights.*
A monsoon is defined as a shift in the prevailing winds. It can bring with it thunderstorms, flash flooding, and dust storms strong enough to change the landscape (they can move at 80 mph).
It's the kind of weather that can kick your ass if you're not careful.
And it matches my mood and our life these days exactly. I'm restless and tense. In the evenings, the wind whisks the trees around and sends debris skipping across the street. I step outside just to feel it on my face like a hot, hard kiss. If I were a cowboy a hundred years ago, I'd be starting bar fights just for the hell of it. That kind of tense. I'm sad, too, though that's coming out in ways other than tears now.
We're all in a funk this week, and that's to be expected. Boy has declared this week "the worst week of my life," and Girl has concurred. And, of course it is. Losing their dog has changed how life looks to them. But, though it has slowed them down, they're still grabbing on to whatever fun there is to be had.
Girl declared that "we have to do something fun every day this week because Buddy died." I know her thinking–that our activities should be compensatory. Make some fun to fill the hole that's left. But she makes another accidental point: that we should go on living, and make it good.
Do something fun every day. I can't say she's wrong.
We haven't exactly been tearing it up this summer, and we've been pretty fine about that until now. We've been swimming some, and just hanging out together. Today I was called upon to judge Girl's fashion/talent show, which required me to wear a Santa hat, carry one of her pink handbags, and to hold a fairy wand in one hand. Talk about fun. (It was.)
But there's a lot of stuff that isn't settled right now, and it feels like we can't see our way clear. We found a house we love, but five other offers let us know we're not the only ones. So we wait, and hope for good news, and make a backup plan. I'm so ready to shake off the dust. I'm so tired of talking about how unsettled things are, you know? How great it will be to burst with good news, when it comes. Which it does, sooner or later. Anyone mind if I pick sooner and pin it down so it can't get away?
So, yeah, I'm ready for the prevailing winds to change.
And in the meantime, maybe we should have some fun. Smart girl.
_________________________
*I've been gently corrected by Bruce, who let me know that the proper thing to do in a dust storm is to pull over and turn off your lights, so that other cars don't think they are following moving traffic. In my mind, I was remembering what I saw, and not necessarily the right thing to do, and I'm grateful for the correction. I will remember it next time I'm caught in one of these.