I may have mentioned once or twice that I'm feeling restless. This summer is doing that to me.
So today I'm going to pretend that you all live nearby, especially you, Madge. (Hey, guess what, a couple of you do live close!) If you're all game, this is what I have in mind to shake off my summer blues. (I'll pretend that a capable babysitter will show up unannounced and ready to entertain my kids for the day.)
You should probably wear jeans and a cute top. Go ahead, change. Oh, and maybe some dangly earrings. I'll be wearing my boots, but you don't have to. (Guys, you get a pass on the cute top and dangly earrings. Unless that's your thing, of course.)
First, let's find a gritty, but mostly safe dive bar. Not the worst one we can find, but one that your mama still might try to talk you out of going to (in my case, there's a good chance I'd find her there. Whole other story.).
We should put on some good music. This ought to be a good start:
I don't mean to sound bossy, but we're drinking beer. It's damn hot here, plus look around. (Anyone tries to order wine, and you're out. We'll take a vote on margaritas.) And no sissy stuff, girls–we're drinking from bottles today. Unless (until?), of course, someone starts ordering whiskey* (hi JCK!) or tequila. Am I the only one who's never had a tequila shot? The whole lick your hand, sprinkle salt, take the shot and suck the lemon? Not even once. How is that possible? (Yes, I've heard that there are wonderful tequilas that one sips. Another thing to try.)
And I've never been on a motorcycle. Why does that sound so great all of a sudden? (I think my mid-life crisis just started. Just now.)
Time for some of this…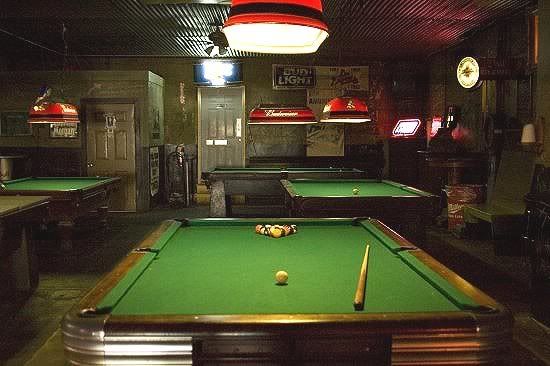 …even though I'm really bad at it until I've had two beers, then I get better for a while, then bad again. But then it gets really funny. I have no anecdotal evidence of this that's more recent than 10 years ago, so you'll have to trust me. Maybe most some of you are better at pool than me. In that case, I'll let you run the tables.
Oh, look. A few cowboys just wandered in. Now the day is perfect. (If bikers do it for you–admit it, they do if they're the right kind–then add a few of those, too.) Wait, there's a back room with a poker game! Now, the day is perfect.
Hey, no one seems to want us to leave (And why would they? All these jeans and cute tops and dangly earrings and good looks?).
But someone needs to feed the juke box. I've got us started, but now it's your turn. What songs would you add to the list I started here? Leave me your favorite songs that you wouldn't be embarrassed to play in a gritty bar (it helps if you're specific so I get it right), and if I can find them on Playlist.com, I'll add them to the playlist above and put the whole thing on my Driving Music page.
Now, whose turn is it to buy the next round?**
______________________________________________
*Mary Alice from From the Frontlines found a perfect song for that point in the afternoon.
**Yes, I'll put the taxi service on speed dial.
The list is growing and is definitely better for your suggestions. I'm adding songs as you post them in the comments, so keep them coming!