This afternoon started out like most school days. Usually after school, the kids spread out through the house to decompress and relax. Then later, as the afternoon slides toward evening, I collect the sprawl of them and try to shape the next hour into finished homework and dinner on the table.
But today, as afternoon began that gentle shift and the sun cast shadows against the dining room wall, I found Girl tucked into a chair at the big table, reading a book. She had a pillow behind her to cushion the hard back of the dining chair, and her knees were tucked under her chin. The house was still, the TV was off. We had each made a cocoon of comfort in three rooms. Me, in my office, the Boy in his room, and her, here.
It was peaceful, a river of quiet flowing right through our house.
When I found her, I was just about to say "Time to do your homework," but I stopped myself.
Let her read awhile, I thought. Time enough for homework later. I was touched by all the trouble she had gone to to make herself comfortable, by the way she bent her head toward her book, by the fact that she was so into the story that she didn't even look up as I passed.
A little while later, when I was about to start dinner, I opened the window blinds above the kitchen sink to find this (click to enlarge):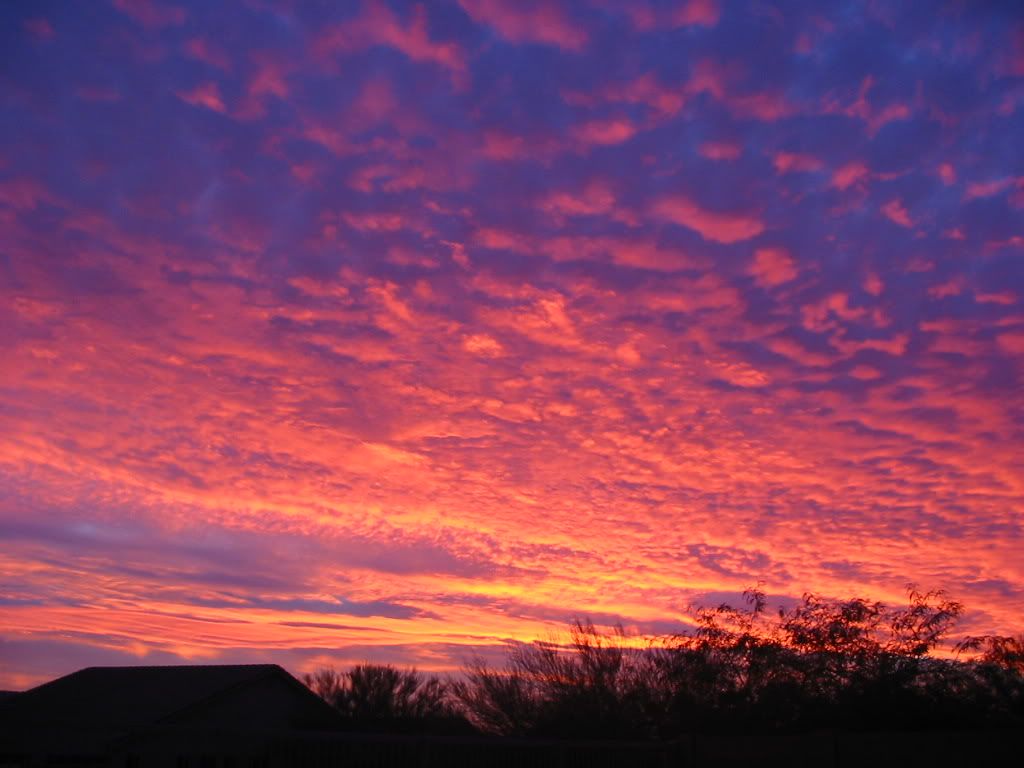 (For the record, I didn't edit these photos at all. The colors you see were as vivid and spectacular as what you see here.)
I called to her to come look, and within a minute she decided to watch the sunset from the patio, and maybe she would read her book out there, and "Can we make a fire?"
I gave her a big yes, the kind that are the most fun when you're a parent, when there's no good reason to say no. I grabbed the camera and took pictures and lit a fire in the firepit and took more pictures until the sky turned a smoky gray. Jupiter and Venus peeked out from the loose handful of clouds around them. I abandoned every immediate plan to make dinner.
The Boy and I went back inside to find shoes and grab sweaters, but then he got distracted by something in his room, and I stopped at my computer to check something for just one second (I know, I know…). A second turned into a few minutes, and before long I heard Girl calling from the patio door.
"Hey, why isn't everyone out here enjoying the fire?"
Good question, sweetie. Really good question.
Before long, they were chasing each other around the yard, with flashlights to see, and making shadows of each other on the back fence wall. They danced crazy dances just to see their silly shadows.
The funny thing is, they're usually a little scared to go out in the yard at night.
But not this night. From nothing more than a couple of flashlights and their imaginations, they spent the next hour making their own fun and – without fear, without thinking a thing about it – lighting their own way.