Here's the deal. I wrote this post last April, and toward the end of it, I mentioned something about a line that would make a good country song. You all said yes, great idea, write it.
And guess what? I didn't. Not really. I have a few index cards and utility bill envelopes with words scribbled on them, even a few lines in my Moleskine – and they all belong to that song. The one that's not finished. Even after a year. So, for the sake of accountability, here's the plan: One month from now, I'll post whatever lyrics I've got written. (I promise not to half-ass it.) If I tell you I'm doing it, there's a deadline, and I always work better with one.
But between now and then, I think I should log some time at the tables (it's been a while – thanks, economy). For research purposes, of course.
__________________
From April 22, 2008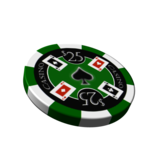 For a few hours yesterday, I lived the life of a professional gambler. And I liked it.
While the kids were in school, my dad and his wife and I went to play poker at the casino. I don't do this often – it always feels decadent to play poker during school hours, like playing hooky.
On Monday mornings, the poker room is mostly empty, with just a few tables running games. A couple of $3/$6 limit tables, an Omaha table, and a $4/$8 table. The crowd is made up of a lot of regulars, many of whom I have played with over the past few years. I know some of their names, but I know them better by their style of play.
I feel more at ease with the daytime crowd than with the one that plays in the evening. These guys – there are few women – are the ones who make their living at the tables (though I suppose a few of them lose it, too), and I like feeling like one of them for a few hours. There's a part of me that feels very comfortable in dive bars, and that part comes out a bit when I get the chance to play with the regulars, in the middle of the morning on a Monday.
And it's that part of me that tips its hat to the fact that I was raised in the country in Missouri. The part that misses the days when I would hang out with friends at bars like The Black Duck in Westport, Connecticut and The Repair Shop in Springfield, Missouri. The part that likes country music, the county fair, and used to go to the tractor pulls with my family.
Even though I really feel more comfortable when everyone minds a few manners, uses a napkin, and doesn't do anything too shocking, I also need things to be gritty and imperfect sometimes. For things to balance a bit precariously on the farthest edge of good clean living.
I lost $67 at the tables yesterday. Just wasn't my day, but I still had a great time. Poker teaches a good lesson: to shake off a loss or a bad beat, because the luck will run your way again.
There's another thing I know. That no matter where I go, or how much I enjoy good, overpriced  coffee or Victoria magazine or the feel of nice stationery, those things don't make up even half the story.
Because inside of me and pointing true north, there's an old dirt road running through my soul.
And that last part, I think, would make a good country song.
_______________________
I had to come back to post this song. It's off an unreleased album from Ray LaMontagne, Old Lonesome Saddle. The song fits here. (If you're interested, check out my Driving Music page for more info about this album.)