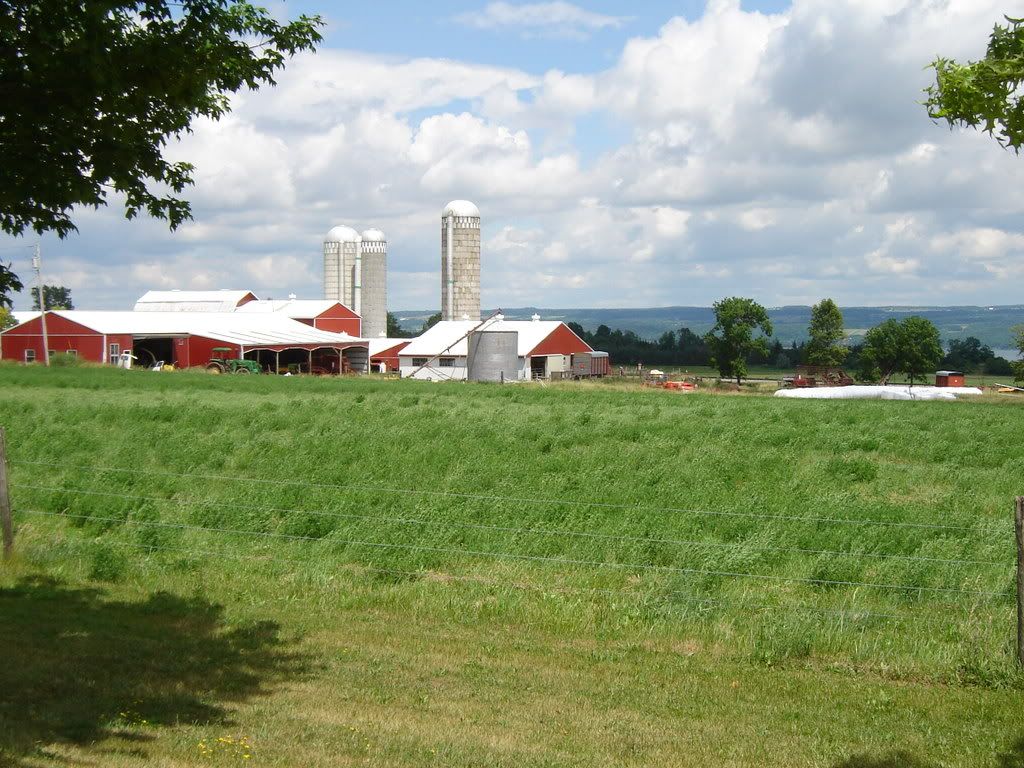 My friend W told me yesterday that the children of another friend are spending a few weeks at their grandparents' farm in upstate New York. They visit every year in the summer and, from all reports, have the time of their lives.
Their mother delivers them to the farm and spends a few days there, then returns two or three weeks later to bring them home. They help take care of the animals, run free, and probably get spoiled plenty by their grandma.
I was ridiculously jealous. I need some farm people. (It's not a requirement that they be related to me. Actually, I would prefer it if they weren't. But they could call you (Farm) Grandma/Aunt/Uncle, if you want. Oh, and I would pay.)
My kids would love it. Well, after they had spewed their "But there are bugs outside!" speech. Yes, they have one. I assume Farm Grandma or Farm Aunt or Farm Uncle would nip that nonsense in the bud the first day or so. And if the Farm People followed my wishes, my kids would be mucking stalls (enjoying that, kiddos?) and hanging out in the hay loft quicker than a swish of a horse's tail.
Boy and Girl come from a long farming heritage on their paternal grandmother's side of the family. And there are some Farm Relatives in Kansas, also on that side of the family, but they've never sent so much as a Christmas card let alone a wide open invitation to sissy up their farm. Guess they don't know that I used to race, terrified traipse fearlessly across the pasture that bordered our place growing up, because it was a half mile shorter than walking on the road to my housecleaning job each week. (The bulls are scary bastards, and they look at you all sideways. Don't make fun. I did it, didn't I?)
It's possible that I love the idea of my kids on a farm more than they would enjoy the actual experience of it. But I doubt it. Boy would climb the first tree that looked manageable and he would want to know how the farm machinery worked. Girl would make a beeline for the barn cats, allergies be damned. If all went as I imagine it, one of them would come home with a bruised thigh where he/she got a stern but relatively harmless kick from a horse (lesson learned), and the other would be all wide-eyed and bursting because he/she got to name the calf that they both "watched get born!" Add to that an inevitable glimpse of some bovine hanky-panky out in the pasture ("Are they playing leap frog, Farm Aunt?" Yes, yes they are. Actually, no.) and I can check that birds and the bees talk off my list.
They would boast about getting to steer the tractor, or plant radishes, or ride horses. Maybe they would learn how to shuck corn and snap green beans as well as Ma Ingalls. And they'd come home all freckled and with arms and cheeks the color of a lightly toasted marshmallow, and with the taste of homemade ice cream lingering fresh in their mouths.
I realize that my version of the story is very Bobbsey Twins In the Country, though there's every chance it could turn out more like Kid Nation, if the Farm People turned out not to be so nice. But I guarantee you that if I told Boy and Girl tomorrow morning that they were going to a farm for a couple of weeks, they would turn themselves inside out with excitement.
I'm taking volunteers.