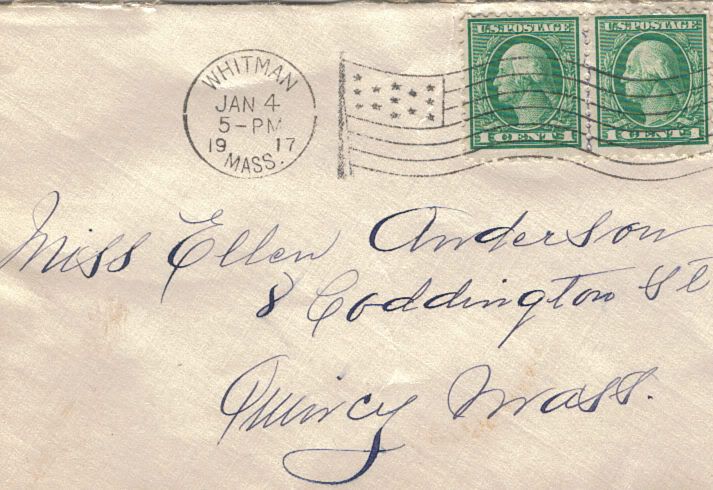 In the middle of a hearty and discouraging stack of bills, a handwritten envelope stood out.
It took me half a beat to process the provenance of the script, but when I realized that it belonged to my friend (and former landlady) in Connecticut, I dissolved into tears (a thing I'm letting you see me do a lot lately, sorry). Half in relief – she's getting on in years – and the other half of me so happy to have my fingers brushing against a touchstone from my middle past.
Mary's handwriting falls somewhere between pretty and puzzling,  grand and unapologetic, a mix I find charming since it reflects her personality. And I happen to like trying to figure out what she's written. This time, her Christmas card contained a short note about her current tenants, one of whom shovels the sidewalks for her, and the other man who lives in the front apartment – the one that used to be mine. And then she wrote either "Both very friendly" or "Not very friendly," and I can't be sure which it is, whether to be relieved for her or sympathetic, especially if Not Very Friendly Tenant is living in my old place (and hey mister, be nice to Mary or get out of my apartment).
Every year, I tuck photos of my children inside a card addressed to her, along with a small, bright hope that they can meet her one day. She's a wonderful lady. I especially want my daughter to meet her, a woman who has lived her life on her own terms for longer than anyone I've ever known. If I'm lucky enough to reach the age she is, I hope I will pull it off with as much grace and self-reliance as she does.
I wonder what Mary would think of this life I've made since I drove away from her house that day, ten Octobers ago. I know she was worried for me as I headed into great unknown (a surprise pregnancy). I know she once had high hopes for me and for what I might accomplish, and I think she imagined that I would stay in the East and make some kind of living as a writer. (Her faith in me was always stronger than my own.)
But life is life, and life begets new life sometimes. In my case, it did, twice. It still startles me, even now, to know that I was part of making these two sweet people, these two smart, funny, sometimes exasperating people who become a new version of themselves with every year, every day, even.
Raising children is hard. Marriage is hard. There are rewards, yes, and a thousand (more) small joys that add up to something so big that you can't see it all at once and maybe won't be able to see until a day in the future when there's more to see looking back than forward. But goddamn, it's hard sometimes. Anyone who says any different? I don't believe you.
When I think of those rooms – and that house – I have this very physical sense that I can reach over the last decade to pick up that year, to take in hand the parcel of who I was and bring it forward to now.  To bring before into after. To hold it close to the chest like a baby bird that you know is injured and might never fly, before it knows it for itself, when it still has the heart to struggle against fate. To whisper over and over against the soft feathers of it, it's going to be okay, even though I know that in many ways it won't be. And that almost none of it will be easy.
This year, in the late spring, I want to take a trip back East. I've started to lobby here already for the time away. The chances are fewer, as time passes, for me to sit down with Mary again and turn back through the pages of these years. The two of us at a small table beside the window in the kitchen of her old and lovely house. Mugs of tea to warm our hands and a long, meandering chat to warm our hearts.
I would know Mary anywhere, even far away from Woodbury, Connecticut – her white curls, shaped into a bob, her clear blue eyes, a classic trench coat with the collar turned up, maybe a string of pearls at her throat.
I've wondered if she would even recognize me now. Maybe not from a distance, out of context – but up close, like that, I know she would. Not just me, now, but the me from back then.
And maybe, standing before the mirror of that place and the friend I've missed, I might even come to recognize myself.